Addresses & Links




Danish Societies
in the upper Nth. Island.

Velkommen til NySeeland
A promotional page for the Danish Society, Hamilton.

NySeeland? Has everyone today got it wrong? Should it be NyZjaeland?



Danish
Calendar
Hamilton
Auckland


The Danish Society, Hamilton
A small club that runs an active program for Danes and Danish descendants in the Waikato region. A newsletter is sent regularly to members, and occasionally there are excursions to different places around the Waikato, visiting places or homes of members etc...
Now have their own web-site ( Hamilton web-site )
The Danish Society, Auckland.
The Danish Society, Hamilton enjoys good rapport with the Danish Society, Auckland which has their own building in Penrose. This is a great asset for use by all Danes that care to join in with the Danish Society, Auckland functions. It has a very fine Danish Beech dance floor, specially sprung for dancing. The Auckland Society has another property," Valhalla" near the marine reserve at Leigh, north-east of Warkworth. Members of The Danish Society, Hamilton can also book this for family and group use. ( Auckland web-site )
| | |
| --- | --- |
| Festivals. The various traditional Danish festivals are always an excuse for a get together in the Waikato and we can also join in with the Danish festivities held in Auckland. | |
13000 miles from Europe,
1200 miles to the east of Australia
across the Tasman Sea.




Ny Zjaelland / New Zealand

Hamilton Danish Society.
Web-site.

The Danish Society.
Auckland.

Calendar.
Web-site.
Regular events:
Folkdancers: Meet on 2nd and 4th Tuesday every month - at 7.30pm.
Valhalla: Working bees (these are held every second Saturday of each month)
Danish House: Open Day, 1st Sunday each month at 2.00pm.
Danish Mothers Group: Meet every 2nd Tuesday (call 443 1722 for venue).
Cardplayers:. Meet 1st and 3rd Wednesdays each month - 11am-3pm.
Committee: Meetings. 1st Tuesday each month - 7.30pm.

Please check out their latest update in their Newsletter or by checking their web-site for information.
Some links:
Danish Newspapers
NZ Ministry of Foreign Affairs and Trade: Denmark (for diplomatic addresses)
Manawatu Scandinavian Club & Wellington Scandinavian Club (Good for info' and links)
Scandinavian Links in Australasia
Scandinavian Association of South Australia

Click on

the Online Magazine for Danes abroad.

Useful addresses.......
Royal Danish Consulate General, P O Box 619, Auckland 1.
- Ph (09) 537 3099 Fax (09) 537 3067 www.danishconsulatesnz.org.nz

The Trade Commission of Denmark, 7th Floor Harbour View Bldg., 152 Quay St., Auckland.
- Ph (09) 379 3119 fax (09) 307 5207.

The Lutheran Church in Auckland, 1 Harris Road, Mt.Wellington, Auckland. Ph (09) 579 4490

Den Danske Forening, The Danish Society Inc. Auckland.
- P O Box 12-279, Penrose, Auckland.
- Danish House, 6 Rockridge Ave, Penrose, Auckland. Ph (09) 580 3103
---
---
Scandinavian Gathering in New Zealand.

The Scandinavian Club of the Manawatu, P O Box 84, Palmerston North.
This is a successful regular event. Start your planning for the next one.
Manawatu Scandinavian Club & Wellington Scandinavian Club
---
For anyone with a general Danish, Viking, Scandinavian interest.
The following is for your information and does not constitute an official Danish Society, Hamilton activity.
The Longships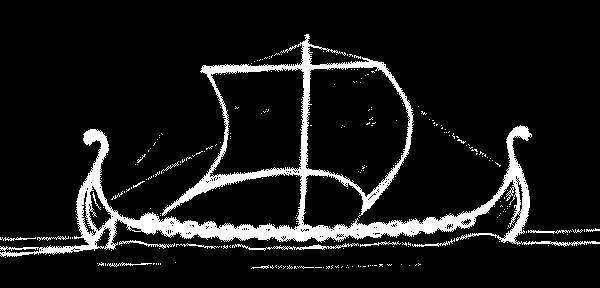 A project and Links to other sites.

Did Vikings only wander around the North Atlantic, the Baltic Sea, the North Sea, the English Channel and Bay of Biscay, and the major European rivers, the Mediterranean Sea and the Black Sea ?
Think again. Perhaps you should visit "The Last Viking" web pages!

Viking Ship Project.
Wouldn't it be great to see one or more Viking Long Ships on the Waitemata harbour and Hauraki Gulf? I have read where the Dragon ships could sail faster than the wind - just like they claim for the large America's Cup yachts!

Perhaps Viking Ship enthusiasts in Denmark, Norway, Britain and the USA could be enticed to sail (or be transported) to New Zealand and so prove something quite historically significant! (read the link page). There is sufficient information to suggest that Viking ships voyaged to NZ around the 11th century or so.

If you have some spare cash (won Lotto?), or know how to get it! Or have the expertise or interest and would like to be involved with such a project. Contact "Vikingskibe" The project is still just a dream, though ideas and some drawings with data and information has been accumulated. If you feel you have useful information, or can contribute/participate in any way, please let us know. The concept was to build a ship of trailer sailer size for ease of transporting it from coastline to lake ro river. Hamilton, though an inland city astride a navigable river, is still over an hour by road from main ports and local lakes are part of a hydro-electric lake system. Therefore a modern 4WD with a sturdy boat-trailer should prove a much easier way of getting to the main sailing locations.
The New Land of Seals(?)
New Zealand : Ny Zjaelland?
Maintained by B.Mitchell. Upd.05/10/2008